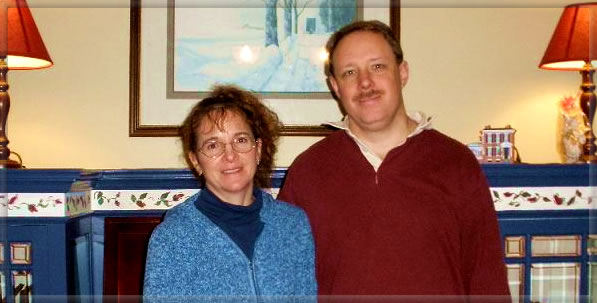 We are John and Lynndell Eccleston.  We have been running the Alden House Bed and Breakfast since March 2007 and over the years we have met many wonderful people from all over the world. It is our pleasure to make your stay with us as comfortable and relaxing as possible.
We moved to Lititz in 1991. Lynndell taught 1st grade at a private school for 3 years, then stayed home with our two daughters: Karis, now age 24 and Allie, now age 22. John worked for two non-profit companies since then.
Our hobbies have mainly revolved around renovating our first home over a period of 10 years and then starting again spending 3 years to complete our second home. Enjoying family activities such as going to the park, activities at church, playing ball, camping and going to the beach have been important to us. We still enjoy Ping Pong and John plays tennis when time allows. Lynndell is always baking something good and has read Tolkien's Lord of the Rings series so many times we have lost count.
Traveling and staying at bed and breakfast inns gave us a desire to be innkeepers. For many years we would walk past the Alden House, impressed with it's elegance. Now we get to share the charm and hospitality of Lititz with everyone. So, here we are, today. We hope you enjoy your stay and come back to see us again.
December 2019
You know your getting old when you think you just finished a project and realize that you actually finished it 10 years ago!  Such is the case with the in-floor heating system of the Carriage House.  We use a 50 gallon water heater to keep the floors in the Carriage House nice and warm all winter long.  When the heater developed a small leak it was time to replace it and I realized that is was over 10 years old.  Seems like just yesterday we were hanging 3 tons of drywall and splashing on 23 gallons of paint in 6 different colors to make it ready for guests.  Now it is ready for another 10 years.  Thanks to our friends at Wagner Heating and Cooling for making it look easy.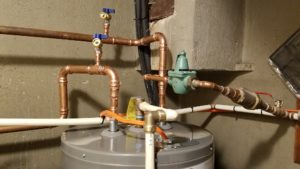 March 2019
With the advent of sites like Trip Advisor and Expedia, we were able to update our availability calendar to allow guests to book their stays either on our site aldenhouse.com or through one of many OTA "online travel agencies" like Expedia.  It was a new learning experience for Lynndell as she took several trainings to understand and operate it efficiently.  We hope this makes booking your stay even easier.
October 2018
We love to watch the parades from the large side porch of the Inn. This fall we saw we had a leak developing so we arranged to have the roof replaced.  But first we had to remove the railing around the top of the roof.  So John disassembled the railing and posts and took them to his shop.  After 3 weeks of pressure washing, scraping, sanding, priming and painting they were ready to be reinstalled on our new rooftop.

June 2018
Maintenance is always an ongoing battle.  Here we see the results after 5 hours of pressure washing, stripping, sanding and priming with another 2 hours of painting.  Our side porch looks good as new.
Even though our Inn was built in 1850, we can still accommodate modern needs.  Our first Tesla Electric car charging up in our parking lot!
December 2017
Lynndell must have been very good this year because Santa left us 40 new sets of towels, 20 new sets of sheets and 5 new mattresses.  He must have liked Lynndell's 5 course breakfast!  We were also able to update the Parlour Suite by removing the faded wall paper boarder and painting the suite.  Lynndell also put up new curtains to dress up the room.  Pictures on the room page.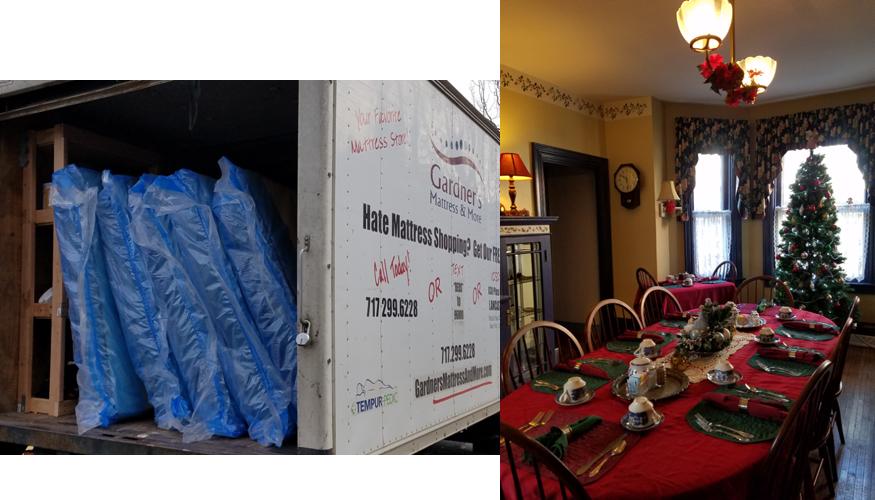 March 2017
Our 10th Anniversary as Innkeepers.  This has been a busy winter with many upgrades in the works.  A new roof on the Carriage House, new HVAC system for the 1st floor of the main house, we finished the storage area of the Carriage House loft, remade much of our signage and converted to a real-time online reservation system.  We love the feeling of making the Inn better and better the longer we own it and appreciate the positive comments from our guests.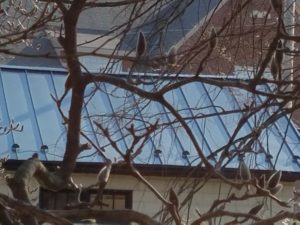 Winter of 2016
9th Year Anniversary
March 2016 celebrates our ninth anniversary as innkeepers of the Alden House Bed and Breakfast! To celebrate we are giving away Jelly Beans to our guests in April.  Come and enjoy Jelly Beans with us.
This winter we (John) have been working on bathroom showers. After much head scratching we determined that we could remove our old showers and replace them with new Swanstone shower stalls.  John has had hours of fun setting shower bases and scribing very expensive Swanstone shower panels into the space and then bracing them in place with 2x4s, shims and lots of rags.  So far, we have all the suites upgraded to beautiful new Bisque colored Swanstone showers.
Winter of 2015
After 30 years took down our building sign to have it restored. Here it is before and after.  Thanks to Dave Schoenly's Signs for restoring our sign back to its original condition.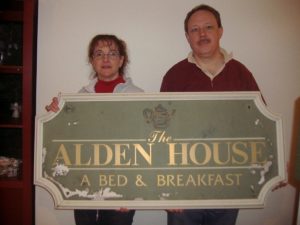 After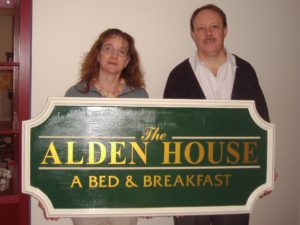 Of course when I went to put it back on the building it was 9 degrees outside.  With new brass screws it is ready for another 30 years of service.
Summer of 2014
This summer we are doing many projects outside at the Inn.  We put a waterfall at the pond, had a large dead tree removed from the parking lot, new landscaping lighting in the flower beds and new concrete on the side of the house.  I wish I could say I did them all by myself, but we had a lot of help.  Here is a shot of Corby and his crew prepping to pour concrete under the circular staircase.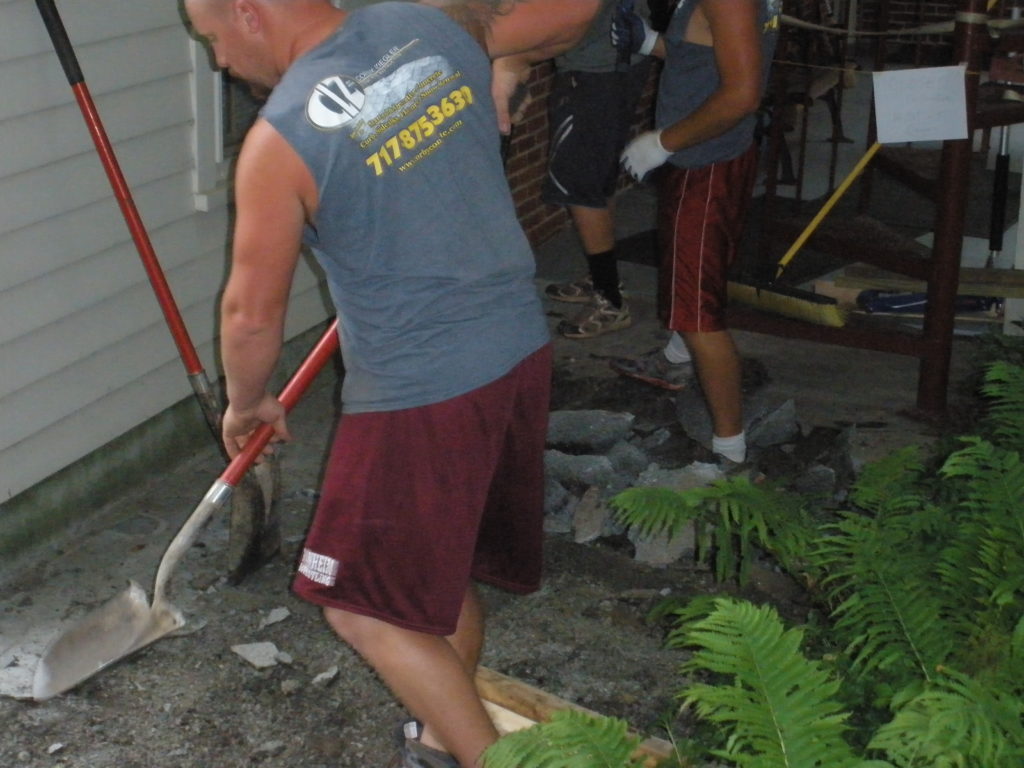 These upgrades go well with the new hardwood flooring in the Sitting Room and new carpet in the hallway (I did the hardwood, Bombergers did the carpet).  Now we begin to think of what we want to accomplish this coming winter.

5th Year Update
We have received a number of positive reviews on sites like BedandBreakfast.com and Tripadvisor.com. We thank you all for the thoughtful comments.
As the old comedian said "Yes, but what have you done for me lately?" Our family of renovation elves have been busy at the Alden House this winter. Lynndell and her crew have been doing the mid-winter spring cleaning and John has been busy making messes. Sometimes we do it in the right order, sometimes not.
John upgraded the WIFI so that it now extends as far as the Carriage House. It's always fun trying to run wires in a 1850's house made of brick. We also replaced the last of the old carpeting from the Parlour Suite sitting room. We repainted the Carriage House bathroom and replaced the old bistro set with a new granite topped set, which is much nicer to eat at.
All of the suites now have a TV in both the bedroom and the sitting room for when one guest wants to take nap and another wants to catch the game.
This winter (2011-12) we have been working on the Upstairs Parlour Suite. We replaced the carpet in the 3rd floor sitting room, put a new decorative runner on the stairs and changed the queen size canopy bed for a King size bed.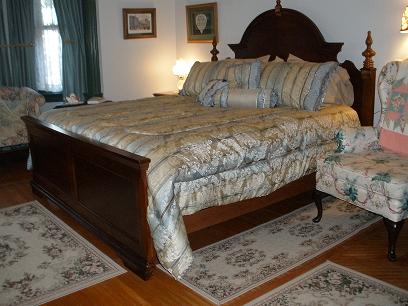 4th Year Update: Alethea Suite Upgrades
This winter (2010 – 2011) we have been at the floors again, this time laying new oak flooring in the Alethea Suite sitting room. We had forgotten how much time goes into the preparation and laying of narrow strip flooring, so a weekend project turned into a Saturday – Thursday project. The Alethea Suite is now complete with new flooring in the sitting room, a new mattress and box spring and a new 24″ LCD/DVD TV.
We also replaced the last of the old vanity tops by installing a new custom granite vanity top in the Lilac and Lace Suite.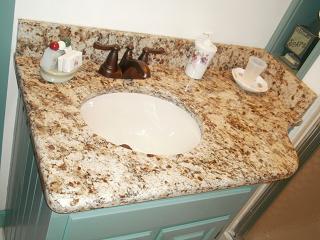 To celebrate the beginning of our 4th year, we had a special in March 2010 that included providing food for the local homeless shelter. Our guests provided 4 loads of food and a monetary donation that we delivered to Water Street Rescue Mission in April.
3rd Year Update: Refinishing the Lilac and Lace Suite Floors – An Odyssey in Floor Scraping
Last winter we removed the carpet and refinished the floors in the Parlour Suite and Scandia Room. This winter John really wanted to do the floors in the Lilac and Lace Suite Sitting Room and Bedroom. He always pulls up a corner of the carpet well ahead of time to make sure the floors are salvageable underneath and after the New Year when the Inn was empty for a couple of days we pulled up the carpet in the Lilac Sitting Room, vacuumed up what was left of the pad underneath, patched the holes from the old radiators with flooring from the downstairs closet, sand, stain, 3 coats of polyurethane and done. The process takes a little time, but gives a great result.
Next it was time to do the Lilac bedroom. "No problem" we thought, as we had 4 days till we needed that room again. So I pulled up the carpet, peeled back the carpet pad and what do I find – vinyl tiles stuck to our precious 1 ¼ inch oak strip flooring everywhere except the one corner that had been pulled up several weeks prior! So, off the hardware store to buy assorted floor scrapers. We then learned that this glue is getting stronger with age.
After several failed attempts with various hand scrapers and chisels, we tried a special scraper made for a reciprocating saw. It worked–sort of. Now one tile came up in a minute or two instead of ten.
Sometime the next day the blade broke with about 8 tiles left to go. John just kept shoving the broken blade back in the tool, chiseled a little more until it went flying across the floor, then shoved it back in the tool again.
Now we had a room filled with 50 pounds of broken sticky vinyl tiles that stuck to the floor, feet, each other, and they were even in the curtains!  It took Lynndell and girls over an hour just to scrape the chips off the floor into several bags.
The next couple of days were spent cleaning decades-old glue from the hardwood with paint thinner with the windows wide open in the 20-degree weather. After many hours of scraping and cleaning, 3 rounds of paint thinner, a half dozen rags, very sore knees and 2 days behind schedule, the floor was ready to be sanded and finished. The next morning, the final coat of finish was applied so Lynndell could start cleaning and putting the Inn back together. Now we have a very nice floor and a very long story. Otherwise out third year has been great and uneventful.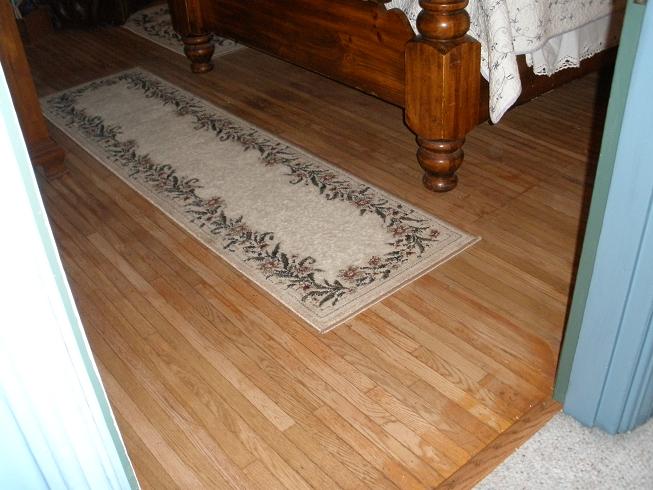 1st Year Update:
Well it has been one year since we became innkeepers. We must have the best guests that an innkeeper could ask for. Everyone has been so considerate and supportive that our first year, while very busy, was also very pleasant. We were able to enjoy meeting guests from around the world last summer including some from Japan, Germany, France, Australia, Argentina, Ukraine, Israel, Spain, Poland and California (of course California is not a foreign country, it just seems that way).
We are slowly worked our way through our winter projects of cleaning and upgrading. We have new carpet in two rooms, now, and John has been working on some of the bathroom fans to make them sound less like jet engines. John installed a new granite vanity top in one of the suites and we have plans for the other baths in turn. We removed the carpet from the dining room and restored the oak floor underneath. It was well worth the 3 days of removing carpet staples, sanding and finishing.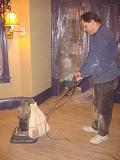 <<<
John sanding the Dining Room floors prior to refinishing
<<<
Karis and Allie continue to grow, they both share clothes with Lynndell, now, and they have their routines at the inn.  They stay busy in the winter with reading, sewing and Irish Dance classes.
This summer we took the girls to Gettysburg for the day. The battlefield is about 60 miles from Lititz. We listened and followed directions from an audio tour as we drove through the park stopping at each site and imagining the battles. We had a nice cloudy day to keep the heat at bay. Please feel free to ask if you would like to borrow our copy of the Audio Guide for the day.
We look forward to new faces this year and seeing former guests come back for another busy season.
~John & Lynndell
Carriage House Update
After 11 months of paperwork and 4 months of blood, sweat and tears (lots of tears), the Carriage House opened to guests just in time for Chocolate Walk, October 2008. There is a photo album in the Carriage House that shows many stages of the project as well as our friends and family members who assisted with the renovation. With heated floors throughout, it makes a cozy getaway in the winter. Our thanks to Wagner Heating and Cooling, Schillaci Architects, Hurst Contracting, Brooklawn Paving, and Hummer Excavating for their help in completing this project.

Winter 2008 Update 
Well, John is at it again. We found very nice oak floors under the carpet in the Scandia Room and the Parlour Suite, so John is removing the carpet and refinishing the floors in those rooms. Lynndell is busy cleaning up behind him and shopping for area rugs to keep guest's feet happy.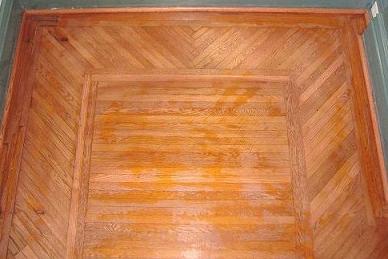 Some very talented carpenter put a lot of work into laying the Parlour Suite floors some time in the 1940s.  We are glad to be able to show them off again.